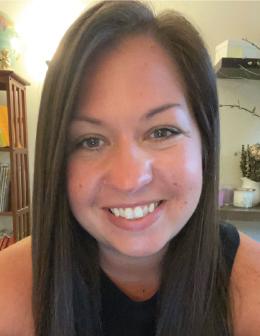 Job Title
Health Educator, Wellness Coach
Education:
•    M.S. in Health and Rehabilitation Science, Wellness and Human Performance, University of Pittsburgh 
•    B.A. in English, Ashland University
Professional interests:
•    Social Determinants of Health / Health Equity
•    Motivational Interviewing / Wellness Coaching
•    Stress Management / Healthy Coping Skills / Mental Health Awareness
•    Tobacco & Nicotine Cessation (Certified Tobacco Treatment Specialist)
•    Body Image Resilience 
•    Yoga and Meditation
Strengths: Holding a nonjudgmental and confidential space for openness and self-exploration. Empowering individuals to reach their goals through problem solving, knowledge sharing, and support. Celebrating success! 
Approach to wellness: There are many moving parts that influence our ability to be well outside of our individual behaviors and choices. I believe recognizing and considering these parts (i.e., social determinants, familial or guardian influence, and the media to name a few!) is a vital piece in the embodiment of our own wellness and for realistic and sustainable goal setting and healthy lifestyle change. Investigating unique challenges and barriers or trying out some new lifestyle habits requires a level of vulnerability and courage. As a coach, I am inspired by each individual's willingness to show up to that process, and I look forward to collaborating and supporting you on your journey. 
Personal interests: I love to be active and walk my dog (June), spin, and practice yoga regularly.  I am a Registered Yoga Instructor (RYT) and enjoy leading yoga classes. Being outside in nature makes me happy and visiting more of the National Parks is at the top of my travel bucket list. Reading, listening to music or true crime podcasts, and throwing pottery and making jewelry are all things I do in my down time. Introspection and learning new things are important personal values of mine, and I am an extrovert that enjoys making new friends and meeting new people.    
Roles: Wellness Coach
Email: 
reisam@umich.edu
University of Michigan