Whatever it is that makes you vulnerable, imperfect, or insecure, you are not alone. Whatever it is that makes you strong, powerful, or inspiring, you are not alone. It's all part of (y)our story.
Let's stop pretending we're all perfect. Asking for help can be hard, and it's time to make it easier. Let's reveal some of the real vulnerabilities that exist here on campus and try and understand how they make us stronger. 
Sharing your vulnerabilities, help-seeking strategies, and strengths can be empowering and also shows other students how connected we are.
Students inspired to share their experiences anonymously can submit their stories via this form.
These students are embracing their full stories.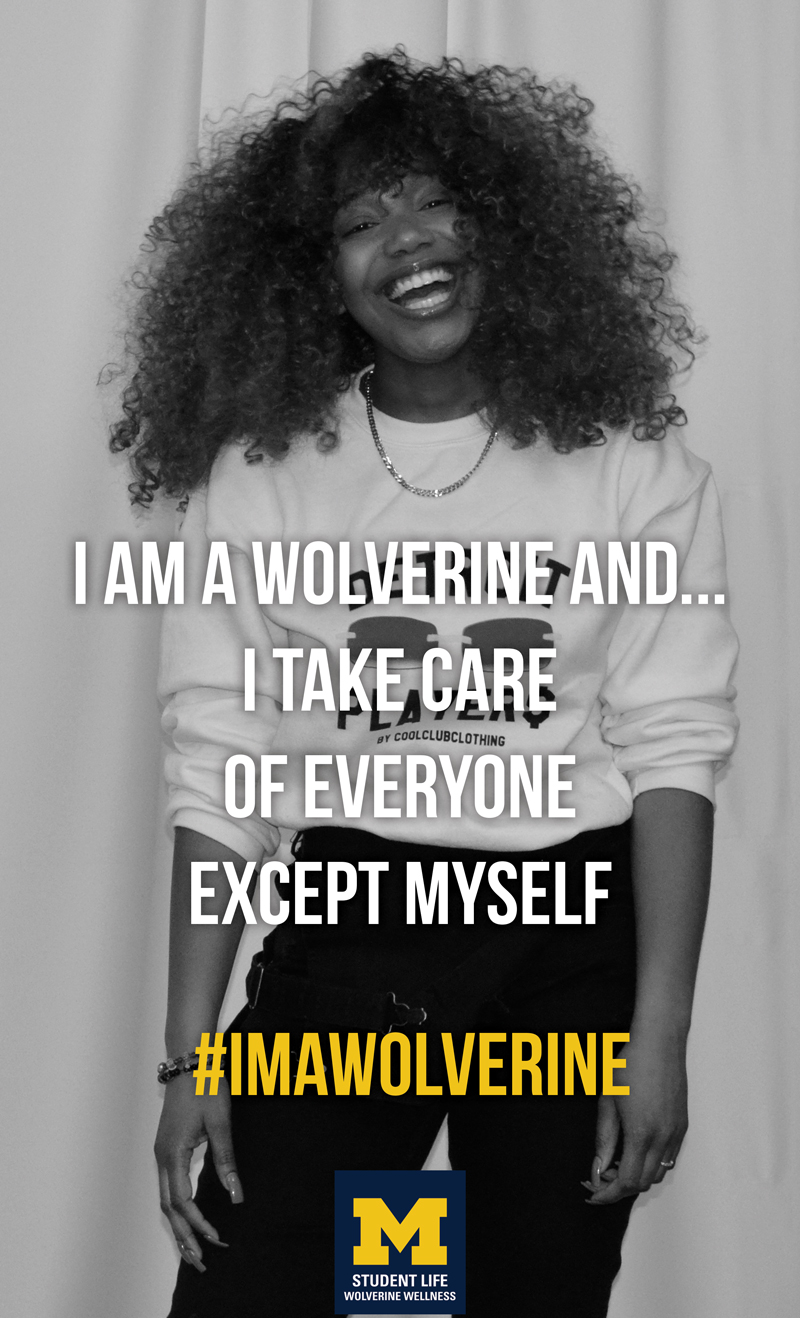 The lessons I learned were many. "It is okay to not be okay." The phrase that saved my life. It is okay to need help and it is okay to ask for help. It is acceptable and correct for you to keep your energy for yourself. It is okay for you to take your energy and efforts away from things that are draining you. It is important to remember that you cannot pour from an empty cup. It is of the utmost importance that you love yourself first; that you understand what is healthy for you and what is not. It is important for you to forgive yourself and to remember that forgiveness of others is also for you. Do not hold back from expressing what you need. Do not live in toxicity because you think that is the only way they'll love you. The people that love you do not view you as a burden; talk to them. For me GOD is where I found my peace. It may be dark now but joy comes in the morning light.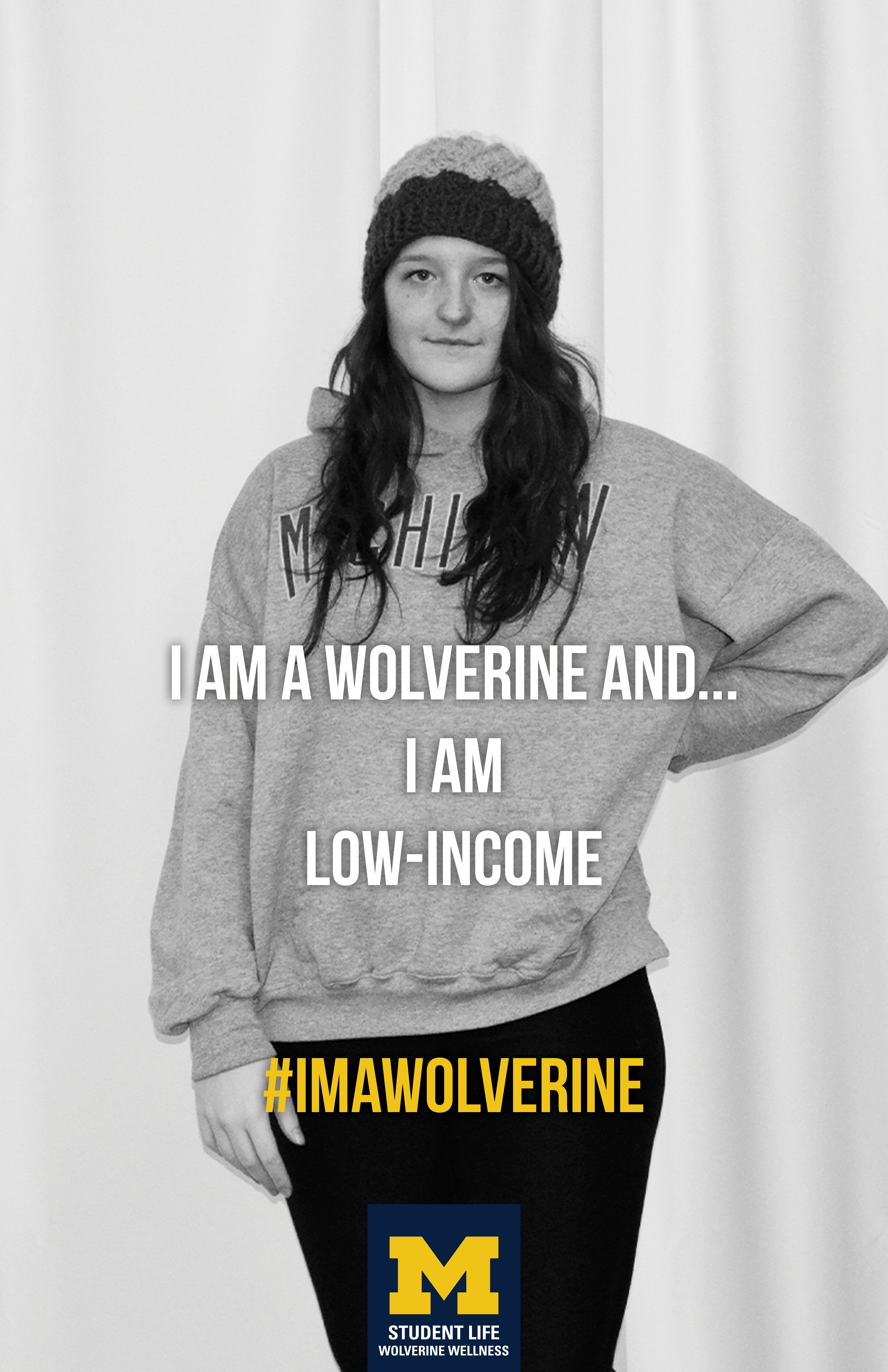 I'm a Wolverine, and I am low income. Going to such a high-class university can feel isolating. I often feel as if I don't have a place simply because of my socioeconomic status. However, I know that I worked extremely hard to get into this university, and that is a trait that others have recognized in me. I have learned that character can often be the reason for success rather than simply having the privilege of wealth. Other than student culture, UMich has really helped me to become a successful Wolverine; I received a great scholarship, I am a part of the laptop loan program, and I was able to study abroad this summer for free simply because of my income. There are always people ready to help lift you up - you just need to know where to look.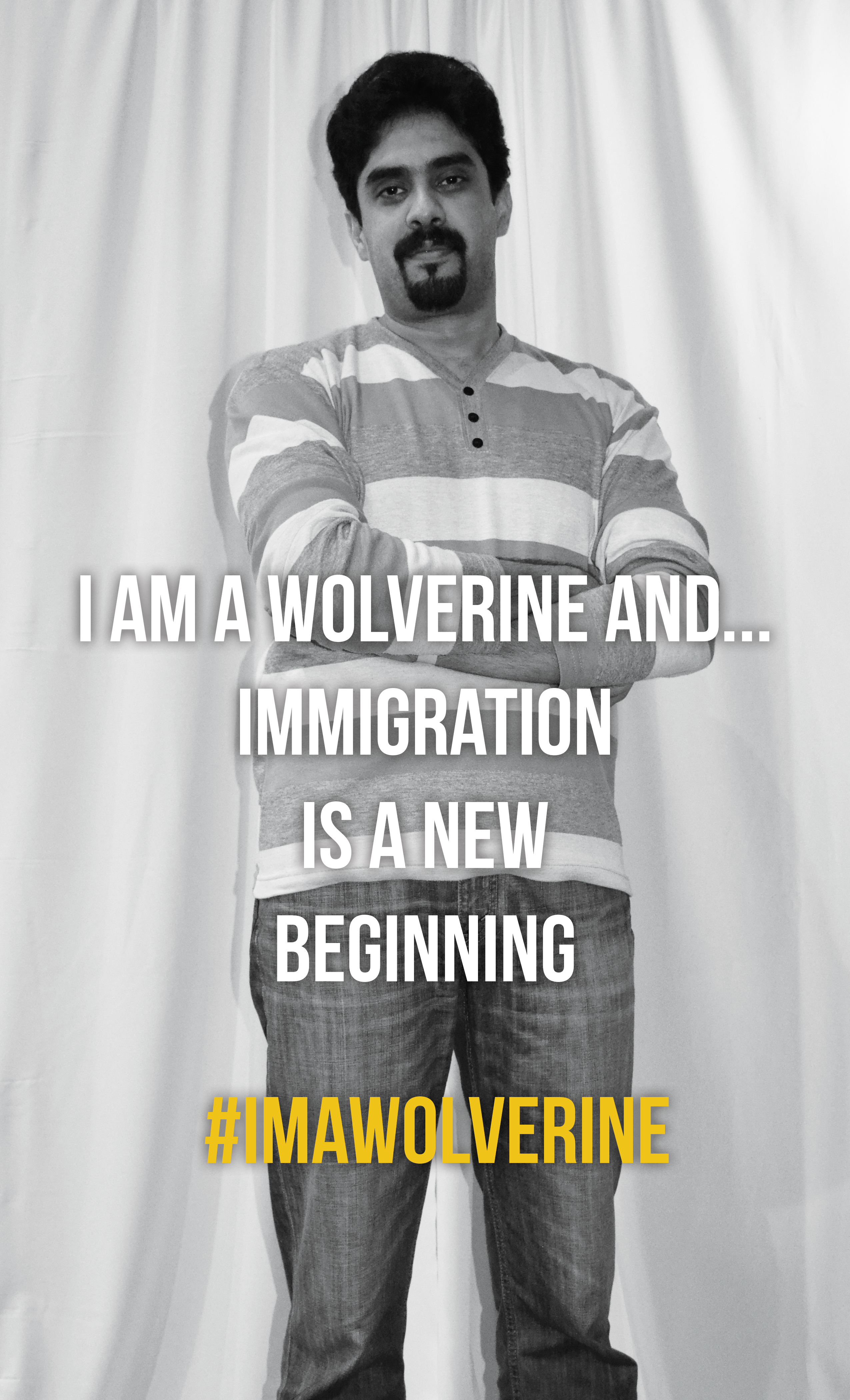 If "immigration" doesn't kill you, it'll make you stronger! Leaving family, friends, and all you have built up to a certain age behind is not easy. Starting an entirely new life in a country, where you don't know anyone or anywhere may sound scary. Reading news headlines and sudden changes in immigration policies might be overwhelming, and public rhetoric could be intimidating when you are trying to adapt from a different culture and norm into a fully different one.
These are shared thoughts and feelings among immigrants - either temporary or permanent. I frequently felt alone and insecure and I admit that after five years, these thoughts come back to me periodically. But this University and the Wolverine community have always been welcoming places, preparing me to better integrate to the society. If you are in the same boat with me, don't feel alone and isolated. Don't be intimidated by appeals of the lowest common denominator. There are kind-hearted people out there. Find them and keep them close. Remember that we are going through this pain for a greater good, not an immediate relief.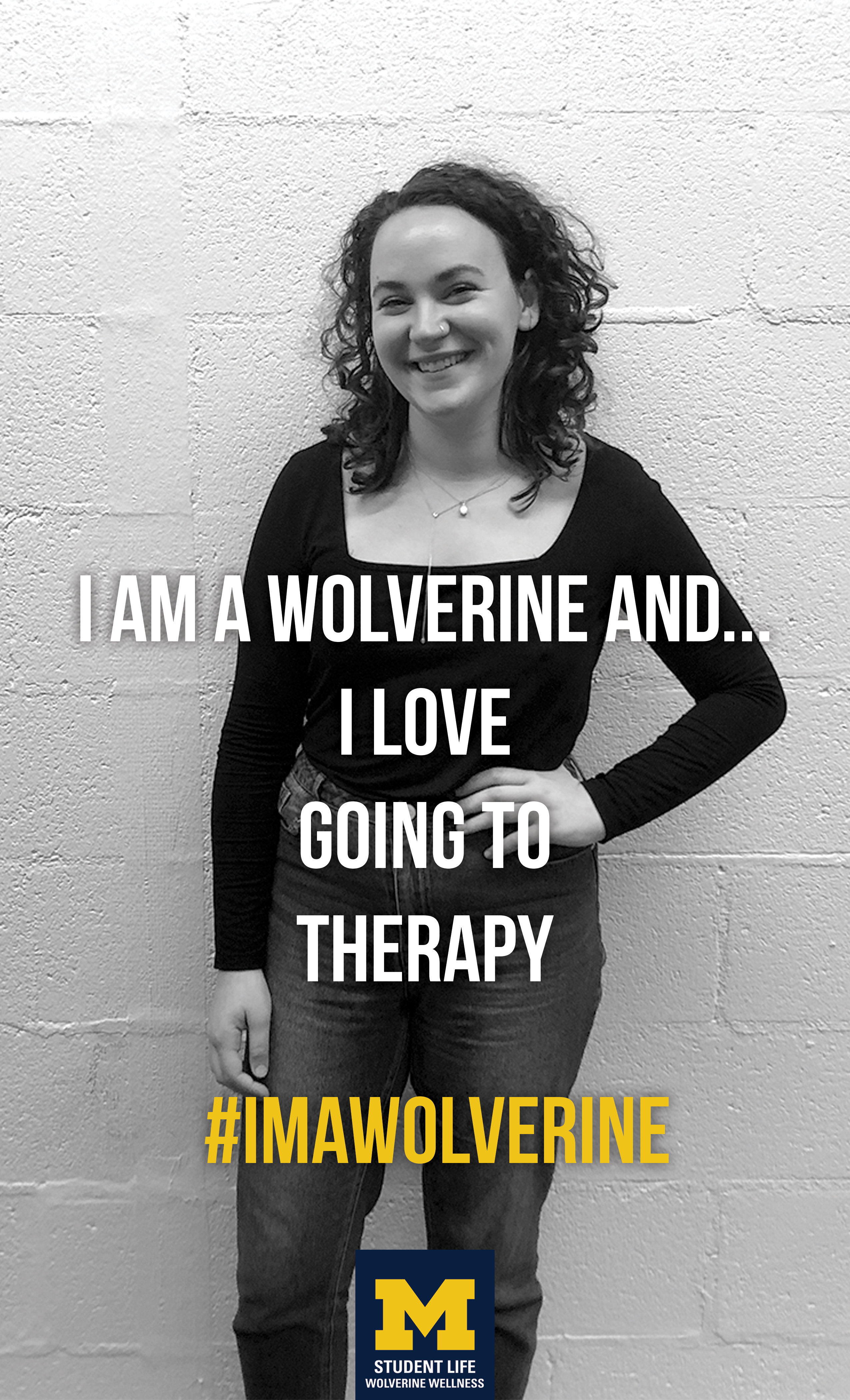 Coming back this year for my fifth year at Michigan was really hard -- most of my friends have graduated and moved away. When I moved back in September, Ann Arbor felt empty. One of my friends suggested I find a therapist to help me cope with my transition. I felt nervous to find a therapist at first, but it's been a really positive experience so far. My therapist has helped me accept that this year might be different from the last four, and she has helped me find things that make me excited to be on campus again. Even though I'm excited to be on campus now, I still find a lot of value in seeing my therapist occasionally. It's really nice to know that when things get stressful or feel overwhelming, I can turned to a trained professional, and she can help me navigate whatever it is that's stressing me out. Going to therapy has really helped me cope with this difficult transition and has allowed me to get the most I can out of this year!
I want to begin first by saying that I don't want my story to speak for anyone else with chronic pain - everyone's pain and everyone's experiences with pain are different! This is only my life and experience with chronic pain. Every day for over a year, my body hurts. On the bad days, I'll barely be able to walk, eat, or think, because my lower abdomen, lower back, and sometimes upper thighs, will feel so cramped that it's like my body is trying to blend them into soup. I'll get pains in my hips like I've been stabbed with a 1,000° blade, and I'll be so exhausted that my body feels like it has gym weights strapped to every appendage trying to walk from class to class. On the worst day I've ever had, every time I tried to move, it felt like I was ripping all of the muscles in my lower abdomen, and I could not move from my bed for hours. Thankfully, not all days are bad days, and on the good days, I only feel a dull achiness, similar to the fever aches of the flu. I have been seen by four different physicians (three of which were at University Health Service), have done 17 vials of blood work, have had two different ultrasounds and an MRI, and still have no diagnosis as to what's causing my pain. When it comes to treatment and management, it's been mainly guesswork and a lot of self-advocacy, and a LOT of help and support from my partner, my friends, and my family. You're always told to not Google your pain, but the Internet has been a great resource for me when it comes to management and support. I've found everything from pain-management diets (I'm currently trying a limited-gluten diet and a blend of warm teas!) and online support communities, to study tips for when you feel crummy and positive affirmation videos on Youtube, and these resources have made a world of difference. (If you're a femme-identifying person like myself, www.chronicbabe.com is an amazing resource!) I firmly believe that the more information that you can put to good use, the more of an empowered patient and person you can be. I've also learned that the body and the mind have limits, and if I try to push past mine, I'll definitely feel it the next day. Self-care and rest is REALLY important, even if you don't have pain, and I didn't know that until I started this journey. My mom likes to tell me that "you can't pour from an empty glass" when I'm nearing my limits! Another vital lesson I've learned is that it's okay to ask for help and it's okay to not be okay. Everyone suffers their own personal trials and tribulations, and the support system you have in your life is there to do just that - support you. If you're really stressed about a project, or in my case, having a bad pain day, calling a friend or family member (birth or chosen) to help is one of the greatest acts of self-care. I'm not going to lie and tell you that it's easy. Every single day is a battle, but I know that I can't quit. If you're working through chronic pain, I promise you that you are at this University for a reason and that you are strong and can make it through. It's not fair to have to deal with pain or fatigue every day, but you can do it. You are a warrior, and you should be kind and patient with your body. It might feel like your body is betraying you, but in reality, it's strengthening you.
Find a team. Professionals and friends. People you can trust, and tell them your whole story, no lies, don't skip anything. Let them hold you accountable, be totally and completely honest. And don't be afraid to get the help you need, whether it's calling a dietitian and a therapist or going into a residential treatment. And please, please don't wait until it's too late. It's scary, but it's the choice that will save your life.